[Report] Commemorative Ceremony Held for the Opening of RIEC Main Building and the RIEC's 80th Anniversary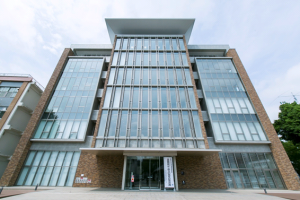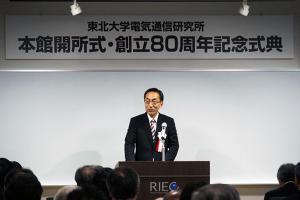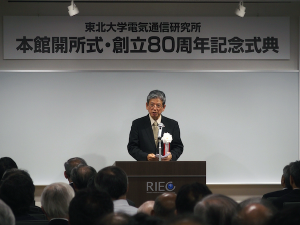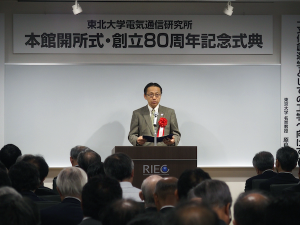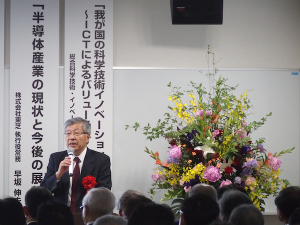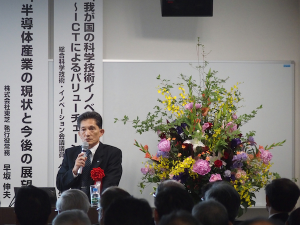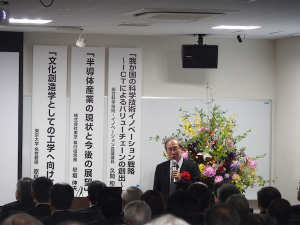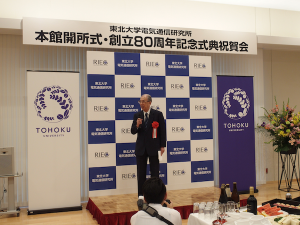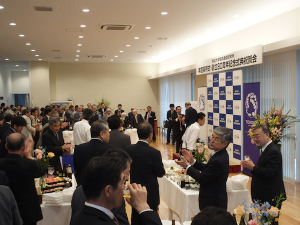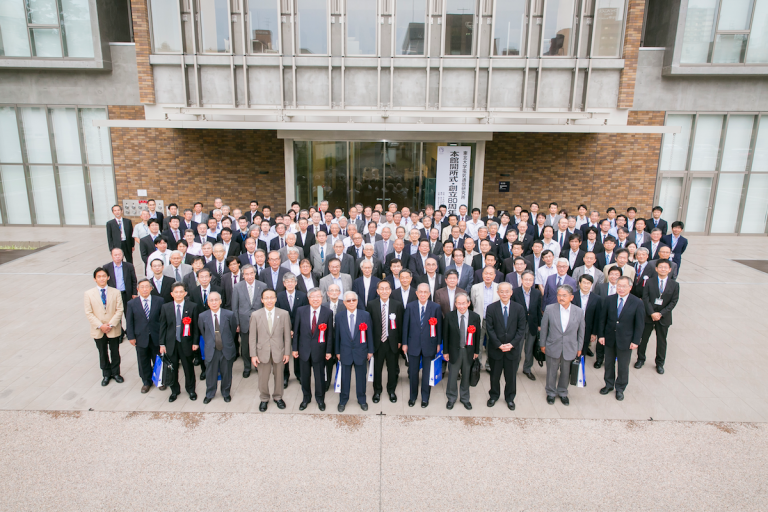 On 23 June 2015, the ceremony celebrating the opening of the new main building and the 80th anniversary was held at the Research Institute of Electronic Communication (RIEC), Tohoku University.
"Since its foundation in 1935, RIEC has made successful achievements in Information Communication Technology (ICT) field such as antennas, the magnetic recording, and optical communications. As our mission, we will continue to pioneer new research areas." Hideo Ohno, Director of RIEC stated at the welcome speech.
"Since the Great East Japan Earthquake and Tsunami in March 2011, our university has been conducting eight research projects including a resilient ICT project supported by RIEC" stated by Susumu Satomi, President of Tohoku University. "Based on the 'Tohoku University Global Vision', I look forward to RIEC's further efforts as one of the leading research institutes of our university."
After the ceremony, three external experts and four RIEC's professors delivered commemorative lectures, and then the reception party was held. At the party, Shun-ichi Iwasaki, Emeritus Professor of Tohoku University toasted after congratulation speech.
---
**Program**
Commemorative Ceremony
– Welcome Speech, Hideo Ohno, Director, RIEC
– Welcome Speech, Susumu Satomi, President, Tohoku University
– Guest Speech, Yoshiaki Ando, MEXT
– Guest Speech, Toshiyuki Takei, MIC
Session #1
– "S&T Innovation Strategy", Kazuo Kyuma, CSTI
– "Perspective of Semiconductor Industry", Nobuo Hayasaka, Toshiba Co.
– Engineering as/for Culture Creation", Hiroshi Harashima, Emeritus Professor of Tokyo Univ.
Session #2
– "Graphene Terahertz Lazar and Application", Taiichi Otsuji, RIEC
– "New Paradigm LSI", Takahiro Hanyu, RIEC
– "Advanced Human Multimodal Processing", Yoichi Suzuki, RIEC
– "Information Storage Systems Evolution", Hiroaki Muraoka, RIEC